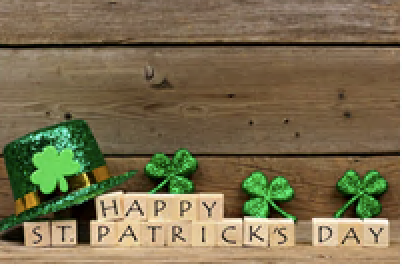 So how did St. Patrick's Day get started, and why is the Shamrock so symbolic?
We did some research and found the most susctinct story via History.com. Within this site, as noted below, you will learn that although it orginally started within the Catholic faith, today it has evolved into a world wide celebration of the Irish.
The following details are courtesy of
History.com.
"St. Patrick's Day is celebrated annually on March 17, the anniversary of his death in the fifth century. The Irish have observed this day as a religious holiday for over 1,000 years. On St. Patrick's Day, which falls during the Christian season of Lent, Irish families would traditionally attend church in the morning and celebrate in the afternoon. Lenten prohibitions against the consumption of meat were waived and people would dance, drink and feast–on the traditional meal of Irish bacon and cabbage."
Saint Patrick, who lived during the fifth century, is the patron saint of Ireland and its national apostle. Born in Roman Britain, he was kidnapped and brought to Ireland as a slave at the age of 16. He later escaped but returned to Ireland and was credited with bringing Christianity to its people.
In the centuries following Patrick's death (believed to have been on March 17, 461), the mythology surrounding his life became ever more ingrained in the Irish culture: Perhaps the most well-known legend of St. Patrick is that he explained the Holy Trinity (Father, Son and Holy Spirit) using the three leaves of a native Irish clover, the shamrock."
This following synopsis may be the ideal talking point at your dinner celebration (note: see our first blog of this month for delicious ideas to pull your party off at Cantera Apartments in El Paso!
St. Patrick's Day observes of the death of St. Patrick, the patron saint of Ireland. The holiday has evolved into a celebration of Irish culture with parades, special foods, music, dancing, drinking and a whole lot of green.
May the luck of the Irish be with you and yours this month, and all year-round!