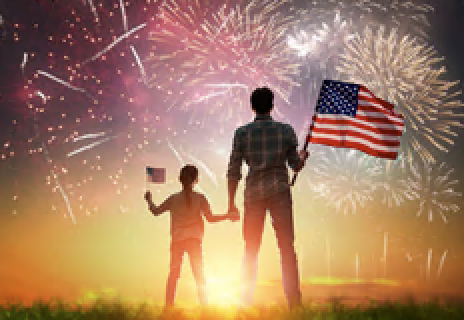 Looking for the best spots to celebrate our heroes this Independence Day in El Paso? Look no further! Within a short drive from our apartments in El Paso are a variety of venues with entertainment and edible eats that are the perfect pick this 4th of July. Wherever you go, we encourage you to take the time to remember those who contributed to our freedom today.
Ascarate Park 4th of July
The El Paso County Parks & Recreation Department is planning a 4th of July Fireworks July 4 at Ascarate Park. Activities begin at 3 p.m. and will include food trucks, swimming and fireworks in the evening.
To make it a special night out for all, the Course hosts a VIP Picnic Party. A ticket includes a tasty dinner, parking pass, door prized, classic picnic games and live music.

Annual Lions Peoples 4th of July Parade
One of the best parades in Texas is a short drive from our apartment community in El Paso. It starts at Hanks High School and continues all the way to Album Park. Thanks to the incredible efforts of the El Paso De Norte Lions Club, you and your family can start Independence Day off right as you salute the heroes of our nation beginning at 9:00 am.
Three Days of 4th of July Fun
Get out and cheer on the Chihuahuas at GECU ballpark for three days of family fun. Every day includes an auction to win a specialty jersey and every evening wraps up with a fireworks display at Southwest University Park.
Western Playland Amusement Park
Get out and get there early to enjoy the festivities at Western Playland Amusement Park. Their 4th of July events start at 5:30 pm and conclude with an all-American fireworks display, scheduled for 9:30 pm.
Western Playland Amusement Park in Sunland Park also welcomes everyone to celebrate the 4th of July. They are open from 5:30 pm, with the fireworks celebration around 9:30.
Wet N Wild 4th of July
Now here's how to do it right! If you have yet to head to Wet N Wild in El Paso, you might want to put this on your 'must-do' list this year. In addition to their plans to present their annual fireworks display, there's more in store than ever before. Make it a full day of fun and fill your festivities with some of the finest water slides in the West!
Here's a list of our favorite ways to keep cool in El Paso on the 4th, and all summer long at Wet N Wild Waterworld.
• Amazon Slide
• Atlantis Adventure
• Jaguar Falls
• Katch a Kiddle Creek
• King Kiri's Fountains of Fun
• Little Rio Grand
• Nainoa Sliders
• Raging Rapids
• Slippery Rock
• The Blaster
• The Blue Streak
• The Condor's Secret
• The Corkscrew
• The Soaker
• And our top pick – the Waterfall Leap!
For more ideas on where to go and what to do this 4th of July, click into VisitElPaso.com!