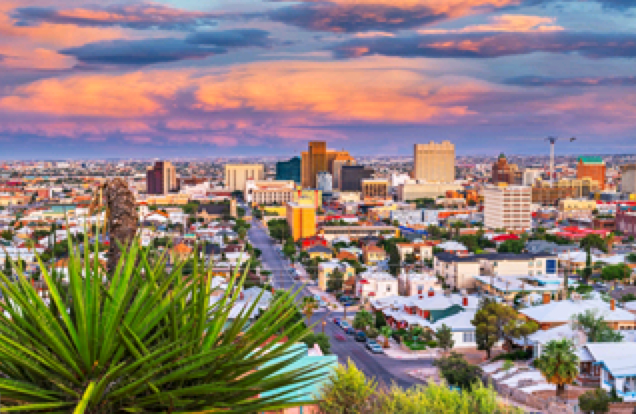 With the world changing their ideas about working hard or living well, El Paso is now on the radar for one of the best places to live, and with good reason. Throughout the years we have shared our insight as to why we love living at Cantera Apartments in El Paso. This month, we want to share some of those reasons, and new motivations, to help our potential new residents feel right at home.
It's Just Beautiful Here
The region's geography just begs one to always have a camera ready to capture its Western wonders. Our expansive landscapes, wide open deserts, abundant wildflowers and intriguing flora and rock foundations are just beginning to capture its magnificence. No matter where you wander, it is highly likely that you will find one of the hundreds of trails that attract the enthusiastic outdoor explorer.
Rock climbers come from all over the world to be challenged by our rock-strewn walls, caves and canyons. In fact, Hueco Tanks State Park & Historic Site is one of the country's premier bouldering destinations.
Mountain bikers call El Paso the ultimate retreat for testing their human-powered prowess. And even the novice outdoor fan always finds the treasures that Mother Nature provides, year-round.
When you combine the beauty of the state with 300 days of sunshine and temperatures ranging from above 40 in the winter and just lovely average temperatures within the 80s in the summertime, you can be guaranteed to spend more time outdoors than in.
Tax Friendly and Just Plain Friendly!
With our classic Western hospitality, we welcome new neighbors to El Paso every day. There are several reasons why we are seeing this influx. The cost of living is very reasonable and manageable. Move.org actually ranked El Paso as one of the (75) cities in the USA for its affordability. Pair that with Niche.com who placed us at 18th for our low cost of living, and you have two very credible resources touting our appealing financial status.
Throughout the Sun City, and beyond, you will appreciate our 'tax friendly' status: there is no state income tax here.
Although we are a big city, our crime rate is impressively low. The U.S. News & World Report rates the property and violent crime rates here as lower than average for similarly sized metro areas. Similar rating systems have documented stats that ranked El Paso as the fifth safest large city in the country!
Need more validation about our financially friendly and warm and welcoming city? Just ask some of our largest employers why they call El Paso home. Within the growing list is Charles Schwab, Prudential, ECM International and many other prestigious companies.
But wait, there's more reasons to live here!
Check back later this month to see more reasons why El Paso is becoming more popular day by day. Think: culture, cuisine, and Rhinos, yes, Rhinos!