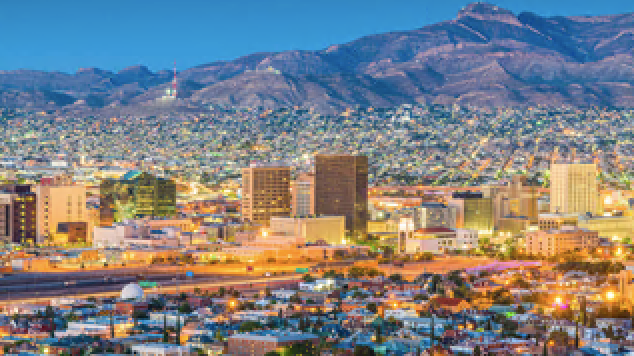 Earlier this month we started to list all the reasons why El Paso is such a perfect place to play and call home. The list is so long that we are continuing to share our insight now.
It's a Hop Skip and Jump to Get Here and Go Anywhere
The El Paso International Airport offers an impressive list of non-stops to some of America's most popular destinations and easy connections throughout the big state of Texas. Depending on where your friends and family live outside of El Paso, they can fly from one coast or the other via Delta, American Airlines, United and other international carriers. And thanks to our central location, either way to fly is probably four hours in the air at the max.
Crazy for Culture?
There is so much history to our hometown, you could spend months learning about our region's rich heritage and customs; all of which are embraced and celebrated by the diverse mix of Native American, Mexican, and American residents and cultures. To immediately get immersed in the charm of our territory, you will want to spend some quality time at the San Elizario Historic District, the El Paso Museum of History and many more of the cultural centers that document our historically rich history that dates back to the 18th Century.
And How About Our Cuisine …
Just one look at the eclectic choice of restaurants that you can find throughout the city and beyond, and you can rest assured you are in for a tantalizing treat day after day. We are so fortunate to have such a diverse and culturally rich collection of award-winning chefs who call El Paso home. Pair that with the generational recipes that appear as specials throughout the season, and there really is no reason to cook at home!
Root for Rhinos, Chihuahuas and Locomotives
As home to three professional sports teams, there is no shortage of sporting events. In the spring, it's all about baseball and rooting for the El Paso Chihuahuas, which are the Triple-A affiliate of the San Diego Padres. Their first home game is March 31 and tickets can be purchased through their website.
Soccer fans purchasing their tickets for the season to support the El Paso Locomotive. Their opening day is March 11, where they will take on the Sacramento Republic. Both teams are part of the United Soccer League.
Right now, all eyes are on the El Paso Rhinos, who are deep into mid-season with their hockey schedule. And if that's not enough sports action, tune into the year-round sports competitions of our University and your hometown schools as well.
And that's just the beginning. To learn more, click on VisitElPaso.com to learn why we just love living at Cantera apartments in El Paso.