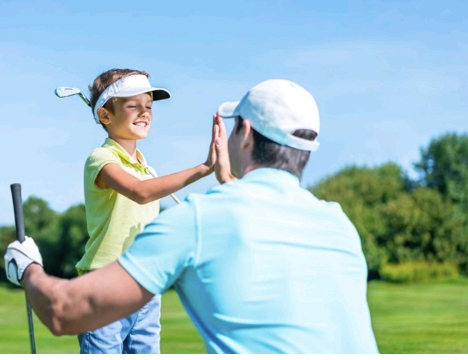 Earlier this month we polled our family at Cantera Apartment community in El Paso, Texas about their plans for Father's Day and then posted them on our blog. There were so many great ideas that we chose to make this a two-part series. Keep reading below for more ideas on what to do and where to go for Father's Day in El Paso!
Hit The Links
Be it just you and Dad or the whole family, El Paso is home to some of the most cherished golf courses in the South. Here are two of our favorites:
Owners of one of El Paso's more popular courses promote the Butterflied Trail Golf course as "A "must-play" for all who seek challenging yet enjoyable play, Butterfield Trail's natural beauty and unique design will inspire an unforgettable golf experience." This is one of our favorite courses for many reasons. First, it is loaded with history. Each hole was named after a different stop on the historic Butterfield Overland Mail Company route, which operated for three years in the mid-1850's, carrying mail and passengers from Missouri to San Francisco.
Carved out of the Chihuahuan Desert, the three courses at Painted Dunes Golf Courses offer every option within any golf course design in the West. Officially noted as a "Championship" course, its architects Ken Dye and Jeffrey Brauer have received accolades from the industry's most acclaimed media including Golf Digest, the United States Golf Association, Texas Golfer, and the Dallas Morning News who touted the courses as "preeminent golf facilities in Texas and the Southwest."
Take A Hike
If your New Year's Resolution included a focus on fitness, McKellingon Canyon is an ideal location to get out to enjoy our beautiful weather before it gets too hot! Anywhere you go within McKellingon Canyon are opportunities to take a brisk walk or run a few miles among some of the state's most stunning terrain. As one of the top spots for those who train all the time, this section of the Franklin Mountains is a favorite route for the ultra-fit or those who seek a scenic stroll on a spring or early summer day.
Plan a Paddle
Take a paddle with pop on one of the many lakes and streams that wind in and around our city. Or better yet, pick up a gift certificate at our local sports shops to learn how to paddle board or kayak on the scenic lakes throughout El Paso.
Picnic With Pop
Whether you enjoy a lovely glass of wine, or not, take your Dad to Zin Valley Vineyards this month. Every Sunday they offer wine tastings and live music wrapped with a view of the vineyards in every direction. Want to really surprise him? Pack a picnic. He will appreciate the special touch as you enjoy a sunny Father's Day in El Paso.