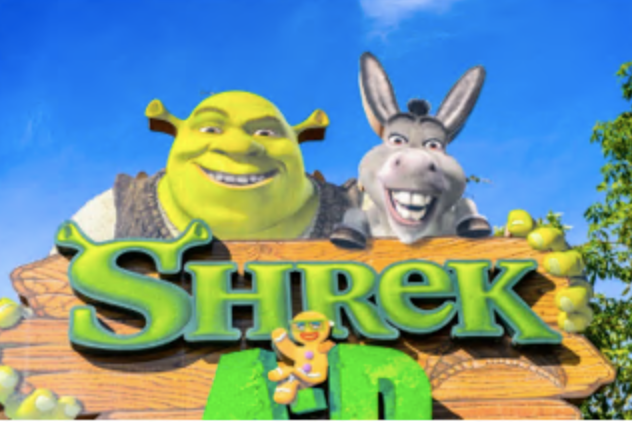 Earlier this month, our staff at Cantera Apartment Community's favorite things to do while keeping cool during the steamy days in July. With the Plaza Classic Film Festival such a big deal in El Paso, we kept the theme and now present the films on tap for the end of the month.
July 29, 2023
Plaza Classic Film Festival
Plaza Theater
Shrek 2
A sequel that is nearly as strong as the original film, Shrek 2 takes us back to the swamp for another rollicking round of post-modern wit that continues to playfully poke fun at the animated fairytale genre.
The Philadelphia Story
Three of Hollywood's greatest stars came together for one of the best romantic comedies ever. Spoiled socialite Tracy Lord (Hepburn) is all set to marry aspiring politician George Kittredge (John Howard).
Whale Rider
Set in a Maori coastal village in New Zealand, the Whangara people believe they date back 1,000 years or more to a single ancestor who escaped death when he rode to shore on the back of a whale.
Rebel Without a Cause
The ultimate teen drama makes a long-requested return to the Plaza Classic. In his most famous role, the iconic James Dean is Jim, the troubled youth who has just moved to Los Angeles and is struggling to fit in at a new school, battling with his out-of-touch parents, and having scrapes with the law.
West Side Story (2021)
Steven Spielberg's energized take on the 1961 movie, itself based on Shakespeare's Romeo and Juliet, is set in 1950s New York and focuses on lovers Tony and Maria, whose star-crossed romance appears doomed by the surrounding bigotry.
Love & Basketball
Is all fair in love and basketball? Monica (Sanaa Lathan/Kyla Pratt) and Quincy (Omar Epps/Glenndon Chatman) search for the answer throughout this film. Introduced as 11-year-old neighbors, with equal passion and skill for basketball, their initial love/hate relationship progresses into friendship.

Sha'Vonne
Sha'Vonne was born into a musical family, singing gospel and R&B. She was influenced heavily by Michael Jackson. Sha'Vonne is a worship leader and has served as a main worship leader at Hillsong family church in El Paso for 11 years.
Prince: Sign 'O' the Times
The Minneapolis wunderkind followed up his first album without the Revolution with a lengthy world tour that boosted sales in Europe but didn't move the needle in the United States, where critics raved, but sales were poor.
Dazed and Confused
It's not the original stoner comedy (nods to Reefer Madness and Cheech & Chong), but it is a definitive stoner comedy about the '70s, and it's the movie that put Texas filmmaker Richard Linklater on the map, made a star of hunky Texan McConaughey and introduced his signature phrase, "Aw'right, aw'right, aw'right."
See you at the movies!