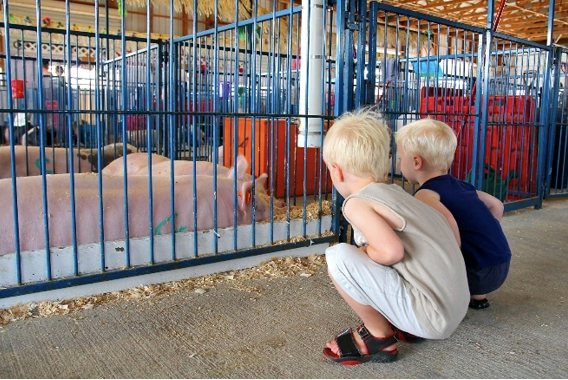 Summer (and the heat of summer) is not over yet! So, it's time to continue the fun before it's Back to School time in El Paso.
We polled our family at Cantera Apartments in El Paso about their favorite things to do with the kids by their side – in a cool environment. And now we are sharing this list with you!
No summer is complete without a trip to the Zoo! With the hot days of summer still ahead of us, head to the Hunt Family Desert Spring that offers a splashing good time for all. This interactive park overflows with water features to keep you and yours cooled off all day long. From the tower sprays to the spray tunnels and then some, it's a great way to keep the laughter going throughout the afternoon.
Here's another fun spot with tasty food, too! For over 65 years, Licon Dairy has been producing high quality milk, cheese and other dairy-based products. Throughout that time, they have continued to give back to our community. Instead of just coming to their shop, make time to take the kids to their petting zoo. It is here where you get to enjoy the company of their exotic and farm animals, too. Be sure to pick-up a flyer about their Halloween event on October 15th. This all day event will offer a free Magic Show, Pumpkin Painting and more festive fun for all.
So much to see and do at the Zone! Within this expansive playground for all ages, you can cool off around the waterfalls, fountains and streams then head to the Go Kart Track to feel the breeze as you zip around the course. They also have El Paso's only 36-hole mini golf course and plenty of new adventures within their renovated AZ 2.0 Adventure Zone.
Leave it to El Paso to have more than one "Zone" to keep the kids active before it's time to go back to school. There are two X-Zones; one on the east side and one on the west side. All of which offer a crazy-fun list of activities where it's nice and cool – with cool things to do. Our favorites? The Obstacle Course, Super Slide and Ninja Warrior Zone!
When it's time to chill out, remember that your local libraries offer quiet time events throughout each week.
The free programs are available and open to the public on the same days and times at all library locations.
· Family Story Time: 4:30 p.m. every Tuesday
· Conversational English: 5:30 p.m. every Tuesday
· Preschool Story Time: 11 a.m. every Wednesday
· Citizenship Classes: 5:30 p.m. every Wednesday
· Teen Hangout: 4:30 p.m. every Thursday
· Computer classes offered at all library locations on a flexible schedule
And that is just the start of our favorite things to do with kids in El Paso. Tune into our next Blog where we will continue to share our list of adventures for kids of all ages!